Mewkledreamy Episode 31 Synopsis & thoughts (Spoiler warning)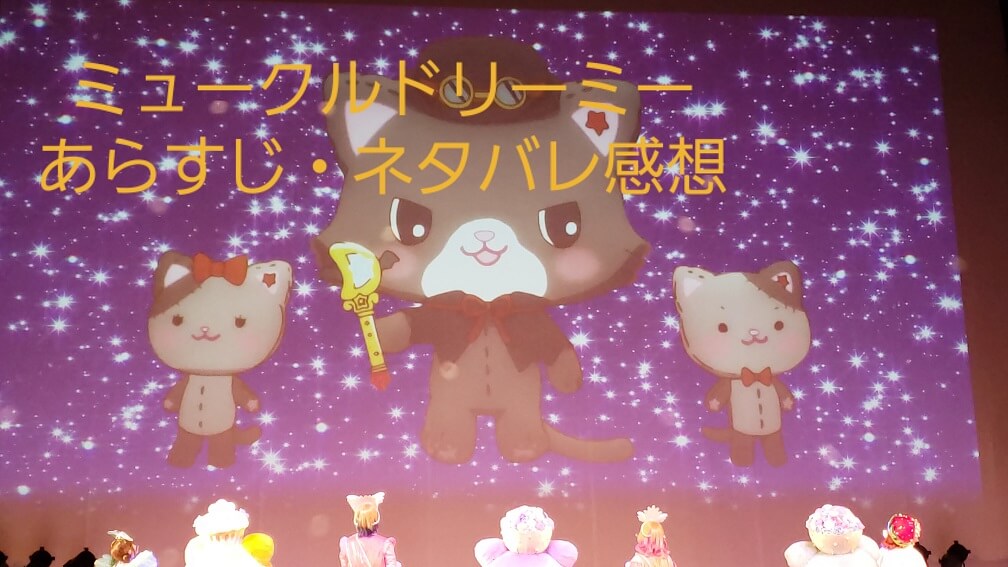 I've been writing up my thoughts and impressions of "Mewkledreamy", which has been on air since April 2020. This time it's episode 31, "Doki Doki Yume Chan on a Date". Yume Hinata is going on a date with Haruhito Sugiyama (Sugiyama-senpai), whom she fell in love with at first sight in the first episode. What kind of fun date is waiting for her?
Table of contents
Person to watch in Episode 31
Episode 31 Synopsis

Yume is asked out on a date by Sugiyama-senpai
Maira Walk!
Sugiyama's plan and Yuni's plan
Sugiyama-senpai and Yume's date
Yuni's plan

Thoughts on Episode 31
Preview of the next installment
Person to watch in Episode 31
Haruhito Sugiyama (Sugiyama-senpai)
He is a third-year junior high school student. Suddenly brainwashed by the Queen of Nightmares to become Yuni's partner in episode 24, "The Power-Up Cultural Festival". Yuni's new home was also found in Sugiyama's closet. When Yuni struck teacher Aoi with the Black Abyss and Yume attempted to purify him, Sugiyama hid her true identity behind a mask and cloak to prevent her from doing so. It seems that his true identity has not been revealed to Yume and the others.
いつもどおり浄化
…ってええ!?
誰やこの仮面…!#mewkledreamy #ミュークルドリーミー pic.twitter.com/DHq5OerC3S

— た(変わらなければならない人間) (@t98478) October 19, 2020
Episode 31 Synopsis
Yume is asked out on a date by Sugiyama-senpai
Yume was asked by Sugiyama-senpai about her plans for the weekend. When she tells him that she is thinking of going to the flea market, he invites Yume to join him. Then, Yuri came to give him something he forgot. Yume hurriedly invited Yuri, but she declined, saying she had something to do. He looks relieved and makes a promise to Yume.
Yuri seems to think that something is wrong with Sugiyama and asks Yume to go check on him.
Maira Walk!
Maira, Kotoko, and Tokiwa are even more excited than Yume is about their date. When Suu-chan asks Yume if she has decided on her outfit, Yume says she hasn't decided yet. That's where Maira comes in!
Maira gives Yume some advice on clothes and recommends a dress and heels. However, Yume has never worn heels before. So, we start practicing the "Maira Walk". "Keep your chin back, your back straight, your eyes far away, don't look down, don't crunch your knees, and focus on your stomach!" With Maira's guidance, Yume managed to learn to walk in heels. "The trick is to keep your posture straight!"
今日のまいらちゃん。芸人じゃなくってモデルとしての姿
セクハラじゃないよ?#ミュークルドリーミー
#mewkledreamy pic.twitter.com/bmkBdUoThF

— 龍双XX (@Ryusoxx) November 29, 2020
Sugiyama's plan and Yuni's plan
At the same time, Sugiyama gathers Yuni, Tsugi and Hagi at his house. He then gives them a plan. "Tomorrow, I'm going to take Yume Hinata outside. I want you to take away the Dreamy Stone while the opportunity." Yuni and the others, who had been moving around on their own and repeatedly failing, were delighted.
Yuni has snuck into Yume's house before, and knows that Kyu-chan (his natural enemy) is there, so Yuni is prepared to take countermeasures. What is Yuni's plan?
失敗する予感しかしない #ミュークルドリーミー pic.twitter.com/u71toQxums

— ウツヤマ (@utuyama) November 29, 2020
Sugiyama-senpai and Yume's date
Sugiyama-senpai used to call Yume "Hinata-san", but suddenly he calls her "Yume"! And Yume is too nervous to go through with it! Yume only sees what she likes, so she asks Sugiyama-senpai what he likes. No way, …… stone! It's the same as Yume Papa's, isn't it? And as she runs to get away from her dad, her shoes get scuffed so badly that she almost fall down. And then Sugiyama-senpai coolly supports her! And he checks on her wound.
Sugiyama-senpai buys her an adhesive bandage and two kinds of ice cream. Yume tells Sugiyama-senpai how kind he is, but he says he bought them out of habit because he has a younger brother who has very different tastes. Sugiyama's mother said something like he has a brother in the previous episode. Yume says she is jealous that he has a brother, but Sugiyama-senpai doesn't seem too happy about it.
In the second half of the date, Yume likes a bookmark. When she tries to buy one for Yuri-senpai and go home, Sugiyama-senpai pays for it in a flowing manner! So cool! Yume asks Sugiyama-senpai to give her Yuri's bookmark, but he doesn't because he thinks Yuri will be happier if Yume gives it to her.
『ミュークルドリーミー』第31話「デートでドキドキゆめちゃん」より。
第26話でも軽く語られていたけど、杉山先輩にはどうやら弟がいる模様。#ミュークルドリーミー#ミュークル #mewkledreamy #mewkle pic.twitter.com/jbbS0FVED6

— "嘲笑のひよこ" すすき (@susuki_Mk2) November 29, 2020
Yuni's plan
Yuni's plan was to throw a tennis ball at Kyu-chan and take the Dreamy Stone while he was at it. Yuni's fastball explodes, but Kyu-chan is quicker and the plan fails …
ゆにさま本当に可愛い#ミュークルドリーミー pic.twitter.com/Fx6wCkvBhG

— shinha♂脱!真包少女 (@shin23601) November 29, 2020
Thoughts on Episode 31
At last, Sugiyama-senpai has made his move! He's been keeping silent and waiting for an opportunity since he prevented Aoi-sensei's purification before. Yume was genuinely enjoying the date and was very cute. Her clothes are very fashionable, and after all, she's got Maira Walk with her, so she's a force to be reckoned with.
It seems that Sugiyama-senpai has a younger brother, but he doesn't seem to be too happy about it. Also, there are a lot of cold expressions about Yuri-senpai. They seemed to be quite lovey-dovey at first, but I wonder if this is also due to the brainwashing of the nightmare queen … The question remains.
What I look forward to every time is Yuni's behavior. This time, he was playing with Kyu-chan. He is so cute. Black Abyss didn't appear this time, but Yuni's cuteness exploded. I can't help but watch it over and over again, lol.
My favorite plushie of Yuni is now on sale, so if you are interested, please check it out.
リンク
Preview of the next installment
次回はNext time: Episode 32 "Birthday is One One Ichigo!". It's the birthday of Asahou-kun and Sugiyama-senpai. I'm looking forward to the next episode!