KUROMI ATARI KUJI Released on October 17, 2020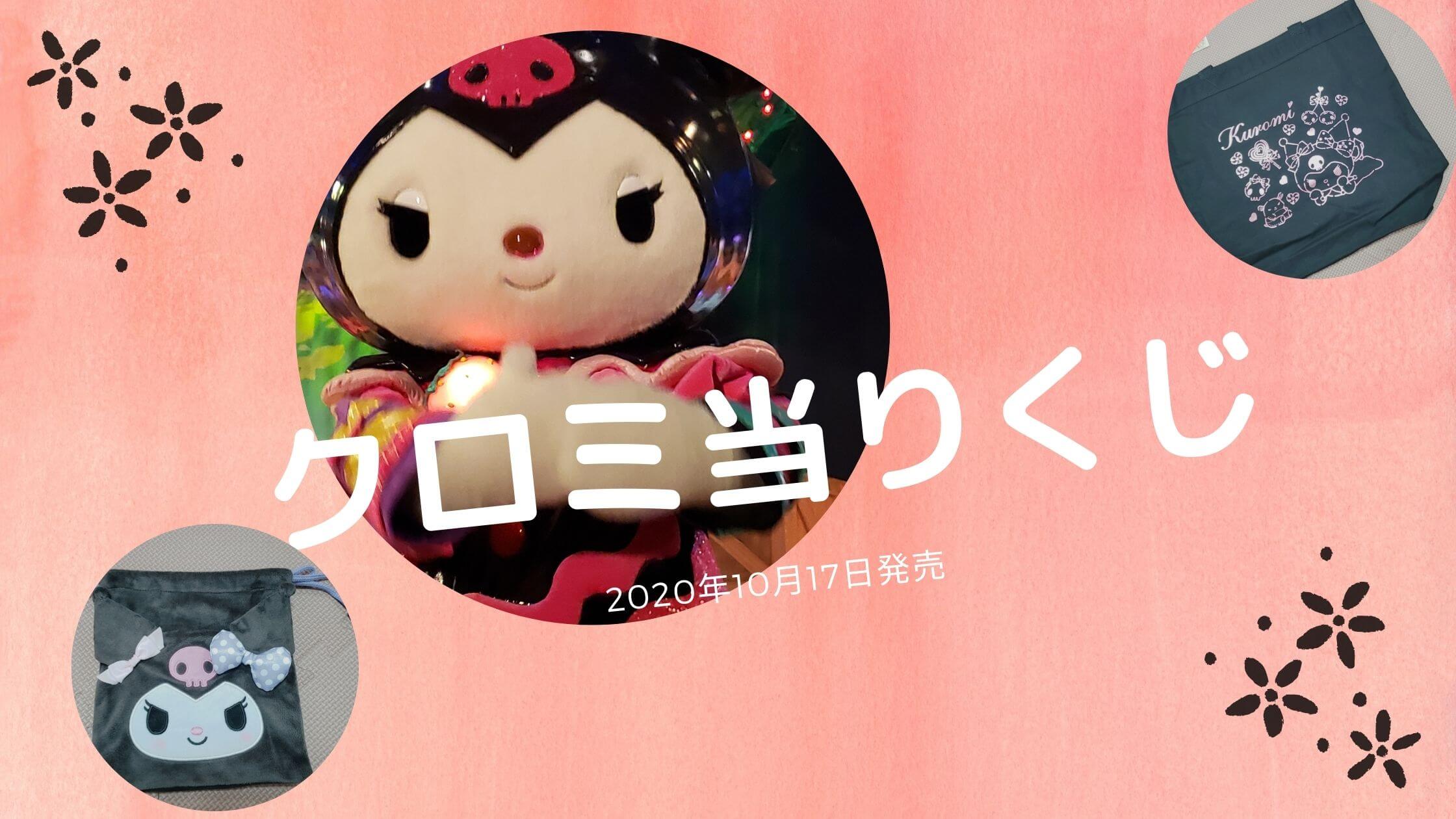 Kromi, the self-proclaimed rival of My Melody, celebrates her birthday on October 31. This year marks the 15th anniversary of Kuromi! Kuromi-chan, whose popularity is growing due to her appearances on the TV show "Fun Fun Kitty", appears in the Sanrio ATARI KUJI (Sanrio lottery ticket) . The line-up of prizes is a must for those who love Kromi. Now, let's take a look at the "Kuromi Atari Kuji" that is on sale from October 17, 2020.
Table of contents
"Kromi Atari Kuji" (October 2020)

Introduction of prize
Release date, price, store list

I bought it (3 times in total)
Conclusion
"Kromi Atari Kuji" (October 2020)
Introduction of prize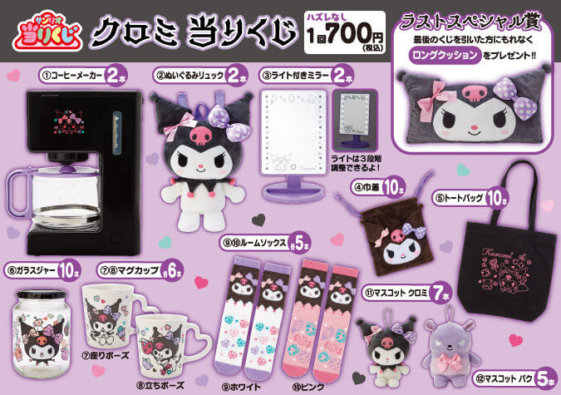 Source: Sanrio official website
Coffee Maker ×2
Plush backpack ×2
Mirror with light ×2
Drawstring bag ×10
Tote bag ×10
Glass Jar ×10
Mug (Sitting Pose) ×6
Mug (Standing Pose) ×6
Room Socks (White) ×5
Room socks (Pink) ×5
Mascot (Kromi) ×7
Mascot (Baku) ×5
Last Special Prize (Long Cushion)
This year's featured products are a coffee maker and a mirror with a light! Since we're spending more time at home, the coffee maker is going to be very useful. The mirror with light has a three-level brightness adjustment function, which may be useful for putting on makeup.
The Sanrio Online Shop is also selling the "Kuromi Mirror with Light", which is a three-sided mirror with a door that can be closed. If you don't win the Mirror with light in the lottery, consider the "Kuromi Mirror with Light" available at the Sanrio Online Shop.
Do you know the mascot "Baku" in the lower right corner of the image? If you're not a fan of Kuromi, you probably don't know him, but he's Kuromi's follower! His favorite things are Takoyaki and Yakitori. He appears in the "Onegai My Melody" series with Kuromi.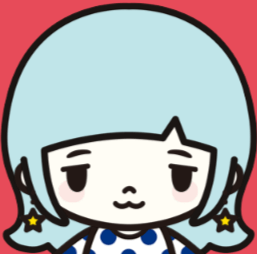 I haven't seen "Onegai My Melody" yet, I'll have to check it out!
Release date, price, store list
Release date: October 17, 2020 (Sat)
Price: 700 yen per time
Stores: Sanrio shops, convenience stores, etc (In Japan)
I bought it (3 times in total)
I've drawn the "Kromi Atari Kuji" three times this time! By the way, the one I want most is a "Mug"! Now, what did I win?
Room socks (Pink)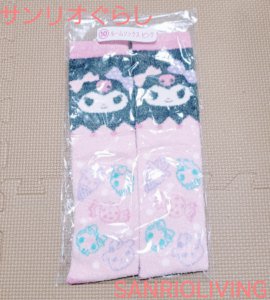 These socks are perfect for the upcoming season. It's so warm! This is a pretty nice giveaway for me, as I have a cold temperament. However, if you don't wash them, the pink fibers will stick to the soles of your feet, so if you're worried about them, make sure you wash them first before wearing them.
Drawstring bag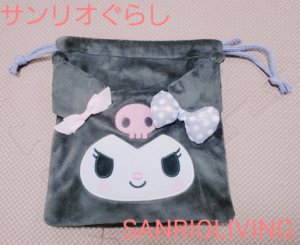 This cute drawstring bag is perfect for winter with its boa material! It's handy for keeping small items like hand cream and sanitizing bottles in one place.
Tote bag
The tote bag is big enough to fit a clear file! The fabric is a little thin, but you can carry it around as an eco-bag for that reason. I'm bringing an eco-bag because all stores charge for plastic bags these days, but this tote bag has a pretty big gusset, so I think it will hold a lot of things.
This time, I used my accumulated "Sanrio+" points to draw the "Kromi Atari Kuji" for two times. I used 2,500 points for one time. I recommend to draw Atari Kuji if you have "Sanrio+" points that nearing the expiration date or if you don't have any prizes you want to exchange! The prizes that can be exchanged can be found on the Sanrio official website. Some of the prizes are on sale.
Conclusion
This article summarizes the "Kromi Atari Kuji". Every time a Atari Kuji is released, I wonder if I should buy it or not. I'm very happy when the prizes are based on characters from the TV anime, like this one, because it's a great opportunity for people to get to know the characters. The "Cinnamoroll Atari Kuji" and the "Sanrio Characters Atari Kuji" are coming up in November, so I'm going to draw a lot of them.