Sanrio character "Pinky Lilrose & Rio Skypeace" depth survey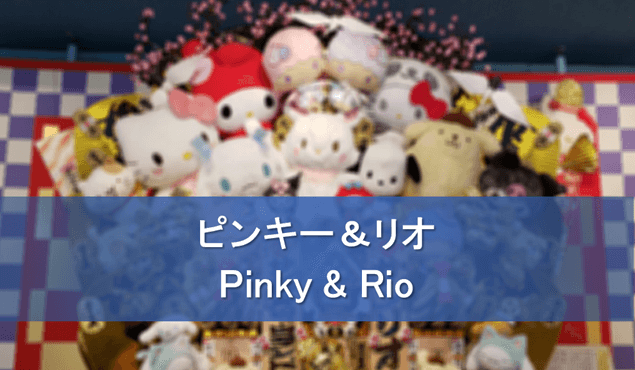 Pinky Lilrose & Rio Skypeace were on a TV show "Sanrio characters pon pon jump!" that aired from 2017 to 2020. Pinky is fashionable and cute. Rio is shy and a bit of a nerd. Let's take a closer look at these two.
Table of contents
Profile
KAWAII Point
Ranking in "Sanrio Character Ranking"
Places or content where you can meet the character
Character goods
Japanese Idol & Aristocrat?
Conclusion
Profile
Let's start with their profiles.
Name: Pinky Lilrose
Birthday: June 23
Favorite color: pink
Future dream: to be a great actress
Name: Rio Skypeace
Birthday: May 1
Favorite color: blue
Interests: He is good at studying all kinds of things
Source: Sanrio official website
ピンキー&リオがうたっておどる新ダンス曲「ミラクルくーるクレヨン」の振付動画が公開中!動画を見ながら振付を覚えていっしょに踊ってね♪https://t.co/YHI6SowP9a
#ポンポンジャンプ#ダンス#振付#新曲#動画#みんな覚えてね pic.twitter.com/aAYawSXV48

— サンリオキャラクターズ ポンポンジャンプ! (@sanrio_ppjp) August 28, 2018
KAWAII Point
Pinky Lilrose
In fact, she is a rich young lady, but she has a backbone, a rich imagination and energy. She also has a sweet little demon side to her.
She's dressed in pink all over, and even her magical parasol with a sheep motif is pink.Anyway, she is a pink sheep. The pink sheep girl, who loves pink, wearing pink clothes and holding a pink sheep parasol. In addition, her birthday, June 23rd, is National Pink Day. She's truly a walking pink festival! No other Sanrio character is this pink-focused… oh… (My Melody…)
Rio Skypeace
He is a little shy and easygoing, but he is very curious and observant. His investigative skills are superb.
He wears a pair of red glasses, but when he takes them off, he seems to be very handsome.Someone please recommend him to wear contact lenses. He is a blue bear guy in blue pants. Also, his birthday, May 1, is National Blue Day. But he still doesn't have enough blue power compared to Pinky's pink power, lol.
Ranking in "Sanrio Character Ranking"
They first entered the Sanrio Character Ranking in 2018 as the duo of "Pinky Lilrose & Rio Skypeace"; in 2018 they ranked 67th (out of 100 characters); in 2019 they ranked 64th (out of 80 characters); in 2020 they dropped in the rankings to rank 78th (out of 80 characters). The TV show in which the two appeared, "Sanrio Characters Pom Pom Jump!" has ended in March 2020, which may have affected the rankings?
Places or content where you can meet the character
Places or content where you can meet the character
During the airing of that TV show "Sanrio Characters Pom Pom Jump!", they would come to Sanrio Puroland. But we don't seem to see them at Puroland these days. It would be nice if they would come out for more greetings at Puroland.
6/23(日)はピンキーのバースデー★
当日はサンリオピューロランドのキャラクターハグタイムにピンキー&リオが登場するよ!お祝いのハグ♥よろしくね!
詳しくはサンリオピューロランド公式HPをみてね!https://t.co/te5mbQVAvC pic.twitter.com/IgUqRSbys6

— サンリオキャラクターズ ポンポンジャンプ! (@sanrio_ppjp) June 10, 2019
There is also a DVD of "Sanrio Characters Pom Pom Jump!" available for sale. It includes special features that your kids will love, so whether you've seen the show or not, you should check it out. My 2 years old daughter loves it too!
リンク
リンク
Character goods
Children's chopsticks and lunch cloths are available as lunch items. In addition to Pinky and Rio, Kitty, My Melody, and Bonbonribbon are also painted together, so you can enjoy lunch time with a variety of characters.
リンク
There are also sticker picture books, coloring books, etc. available, but as of August 2020, they are all sold out and cannot be ordered. Hopefully they will be re-released and stock will be restored.
Japanese Idol & Aristocrat?
Pinky's voice actor is Kalin Isobe. She made her debut as a singer in the opening song of the TV anime "Go! Princess Precure" and is also active as a voice actor for anime and games, and as a stage actress. She is also famous as the voice actor of Tsukioka Kogane from the popular game Idolmaster Shiny Colors (Shanimas). She is also a member of the vocal and performance unit BlooDye, which was formed in 2019, where she sits on vocals with Kanako Takatsuki. Speaking of Kanako Takatsuki, she's the voice actor for Kunikida Hanamaru, the school idol in "Love Live! Sunshine!!".
Rio's voice actor is Yoshihiko Aramaki. He is an actor mainly active on the stage and in musicals, appearing in so-called 2.5-dimensional musicals and stages such as "Toukenranbu", "Musical: Prince of Tennis (known as TenniMu)", and "MUSICAL NINTAMA RANTARO". He played the role of "Sir", an aspiring British aristocrat in the TV drama "TV Drama Success Sou", and also played a host (not a nobleman) named Jukiya in another TV drama "Birth of an Aristocrat -PRINCE OF LEGEND-", and later appeared in the movie "Aristocrat Descending -PRINCE OF LEGEND-". I feel like Rio's image is becoming more and more of a bear to an aristocrat, but don't worry about it. Rio is just a shy, slightly nerdy bear who is handsome when he takes off his glasses.
Conclusion
Pinky & Rio were very active in the TV show "Sanrio characters pon pon jump!". They're both charming characters with strong personalities, and the people in them (the voice actors) are also incredibly unique. It's a pity that we don't get to see them more often after the show, but I hope they'll continue to appear at Puroland's meet-and-greet events and other places.