Report: I met many characters in the secret greeting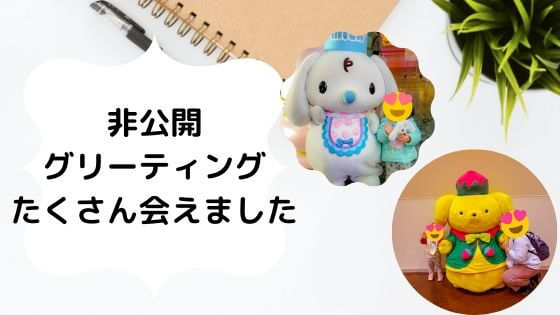 On January 10, I went to Puro for the first time this year. It was the first day of Sweets Puro, but it was not crowded than I thought. Since I couldn't participate in the greeting last time, this time I went for a secret greeting. After my melody birthday event, I prayed that it would not be crowded.
Here is the previous report.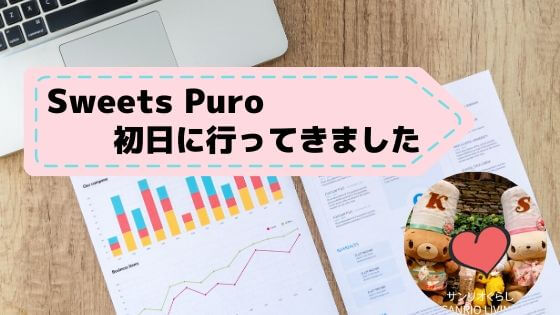 Table of contents
Now to the second Puro this month

Secret greeting -monkichi-
Happy Happy Birthday SHOW
Fuwafuwa (Fluffy) Kids Land Secret Greeting -Pompompurin-
Gudetama The Movie Show
Character hug time
Character food court
Miracle Gift Parade
Ichigo🍓Ichie
My Melody Garden
Secret Greeting -Milk-

Conclusion
Now to the second Puro this month
This time, I had no plan, so I decided to give priority to my mother's wishes. My mother's wishes were "I want to see Kiki & Lara at the Miracle Gift Parade" and "I want to see My Melody Ichigo Ichie". At Miracle Gift Parade, I bought "PURO PASS" and booked a place where Kiki & Lara were as close as possible. My daughter's hope was that "I would like to see Gudetama The Movie Show". She is a woman of principle. lol
Opening at 9:30 on this day, admission started when we arrived, and the greetings around the Wisdom Tree were already in line. If you want to participate in the opening greeting, I think it is better to enter right after the opening. By purchasing "PURO PASS", you can enter the park 5 minutes before opening time.
Secret greeting -monkichi-
Around 10 o'clock, around the Wisdom Tree, Pompompurin and Monkichi had already started greeting. At this time Pompompurin had already closed the line. So, we lined up in Monkichi. My daughter meets Monkichi for the first time! I was a little glad because I never met him.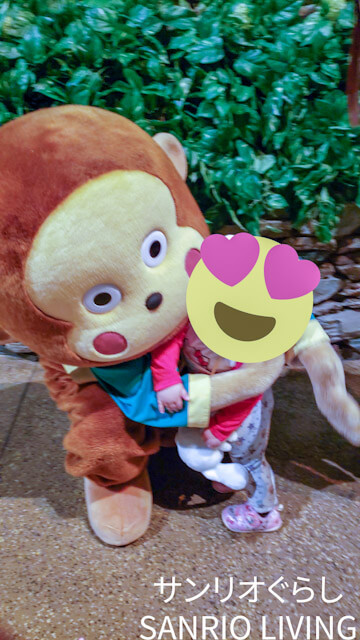 For this greeting, I decided to take a picture while taking a video. This was my first time shooting a video, even though I had been greeting many times. I asked the attendant to pass the camera and it was OK. (From February 1, 2020, asking attendant to shoot a video violated the rules.) The photos were taken perfectly. In the picture, she looks like she refuses …?
After that, He put a seal on the anniversary card hanging on my daughter's neck. Monkichi tightly pressed down the seal so that it would not come off. That movement was cute.
Happy Happy Birthday SHOW
We saw my daughter's favorite "Happy Happy Birthday Show" again. The last time, my daughter didn't know anything other than "Patchakko", so she said "Who is that?" This time it was the second time, so I thought she could remember many characters. However, she couldn't remember "Shifo Maru", and she said, "Who is that?" She remembered "ruby" though. Next month I thought it would be nice to have a lot of characters she knows.
My daughter loves to dance, so she danced this time. It may be closer to running than to dancing. lol I lose track of my daughter when I am watching the dancing characters. My daughter is only 81cm tall, so if there are many children, my daughter will be blended into the crowd. I called for my daughter to dance at I could see.
Everyone was moving around with a ninja running and it was very cute. There were a lot of cute actions, such as practicing throwing shurikens from "Shifo Maru".
Fuwafuwa (Fluffy) Kids Land Secret Greeting -Pompompurin-
After "Happy Happy Birthday Show", I had a little time to go to Gudetama show, so I walked around the Wisdom Tree. There were so many secret greetings on this day, and the entertainment hall was very crowded. We went to "Fuwafuwa (Fluffy) Kids Land" for the first time.
Fuwafuwa Kids Land is an area where preschool children and their parents can relax. You can play with Kitty's house with air. My daughter was scared so she could not enter, but she was watching the children playing. lol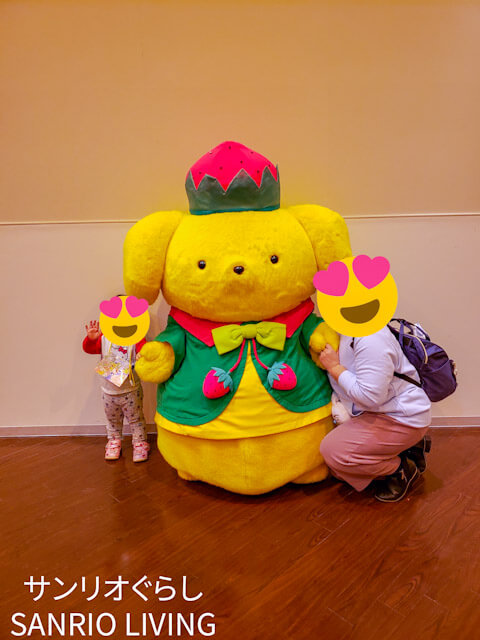 After a while, Pompompurin wearing strawberry clothes came to play. It was full of children, so the speed of the greeting was somewhat slow. I'm glad I don't rush. My daughter talked with Pompompurin about various things.
Pompompurin was very kind, holding hands firmly with my daughter. It is a recommended place for families with children!
Gudetama The Movie Show
It is the second Gudetama show viewing this month. My daughter was excited to talk with Gudetama today. However, this time, her wish was not fulfilled and I she could not talk with Gudetama.
She got grumpy because she was a little hungry.
The content of this movie was Detective Edition. Gudetama guessed who broke the plate. Good luck, Gudetama! lol
After that, there was an unusual photography time.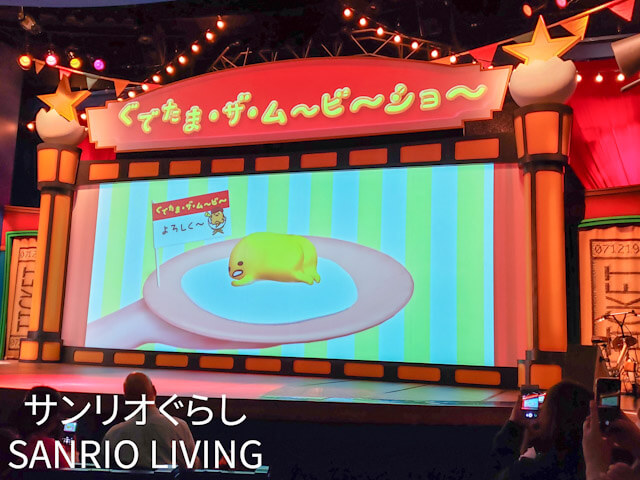 "Gudetama The Movie Show" can be shot all the time, but the content of this day Gudetama himself told us to shoot. lol
I was struggling to take a picture of Gudetama, but I was able to capture a good photo. The pretrty butt is very cute. lol
Character hug time
When the Gudetama show ended, character hugging time began. I thought it was already closed, but still queued up! We hurried in line and waited for My Melody wearing my 45th anniversary outfit. My daughter waited quietly, worried that My Melody would be gone.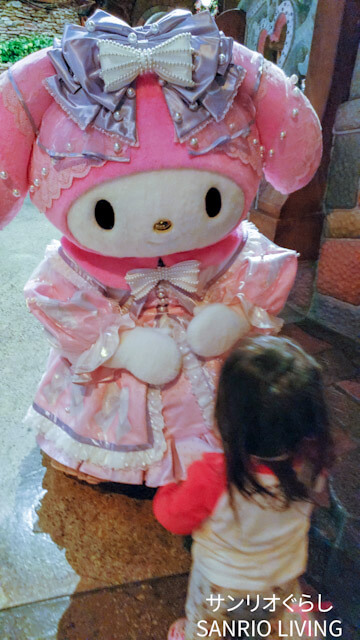 My melody bowed to my daughter's height! Nice! I told my daughter, "If you meet My Melody, say happy birthday." Then she shouted, "My melody, happy birthday!", before hugging with my melody. My Melody was very pleased.
Character food court
We were able to sit down at the food court right away. This time, I ordered a burger basket and an Almond Jelly Drink from My Melody's Anniversary Collaboration.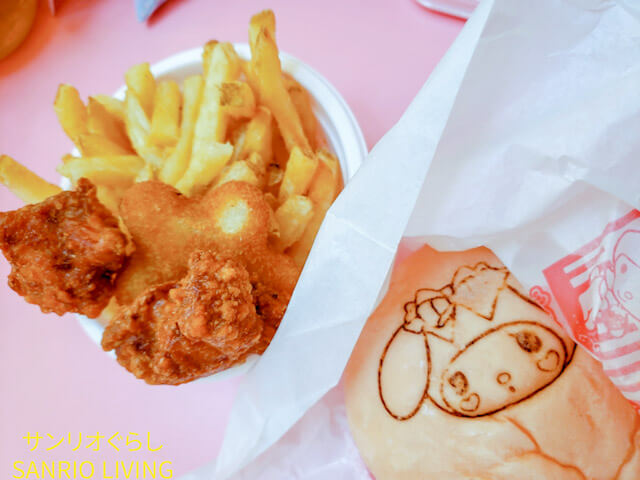 This is My Melody anniversary burger basket I bought for my daughter. My Melody is on the hamburger! It is pretty cute. It was wasteful to eat, but my daughter ate about half.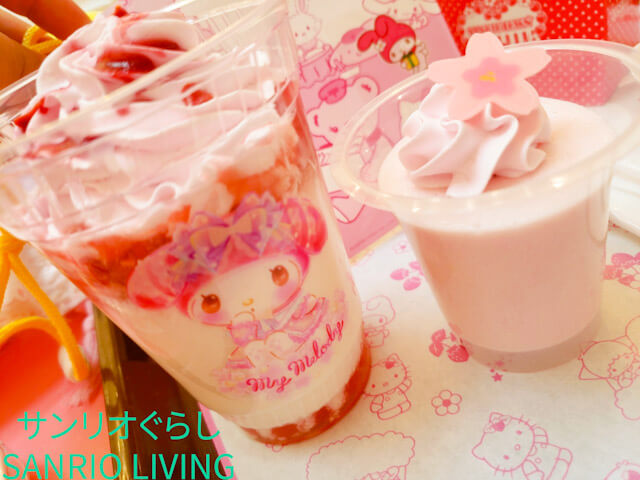 I asked for an Almond Jelly Drink I wanted to drink. The My Melody cup is cute. By the way, straws are heart-shaped. It may seem a bit difficult to drink, but it's instagrammable! lol Boba at the bottom was a popping texture! It's pretty sweet, so I think it will be a dessert. I want to drink again.
Miracle Gift Parade
I watch the Miracle Gift Parade after a long absence. This time we bought the PURO PASS and sat in the front row. we sat near the Wisdom Tree stage. This is where the head of the parade departs. It is very cute that the characters are waiting in order. It's a recommended spot because the characters are itching to start.
Miracle gift parade is wonderful after all. It's very fun to see the dancers and characters dancing happily.
Piano was playing with Miracle Heart Light. My daughter wore a miracle heart light to various characters and dancers while sitting quietly. The characters and dancers have a meet and greet with fans so my daughter is very happy.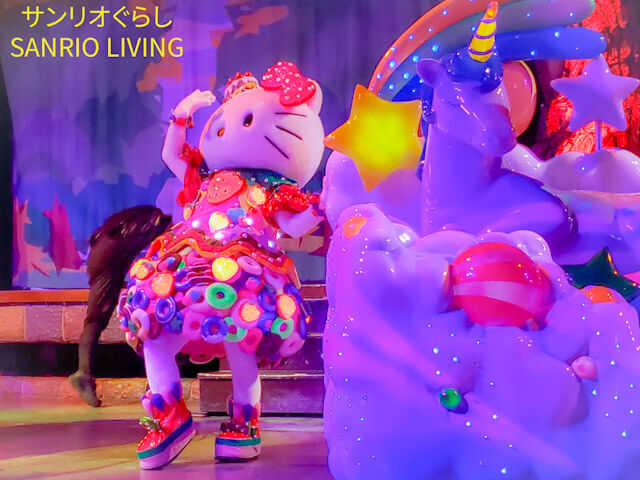 In the middle of the parade, the Queen of Darkness comes out and Kitty and her frends are in a big pinch! The characters run away. But Kitty is tired to escape and has a little break time. lol Kitty makes the break time very elegant … That's nice.
Ichigo🍓Ichie
Leaving the lingering finish of the Miracle Gift Parade, 30 minutes later, My Melody "Ichigo🍓Ichie" will start. Last time we sat down in front of the large screen and watched it, but this time I decided to watch it on the large stairs. It's time to sit and rest. My daughter dozed off while waiting for My Melody.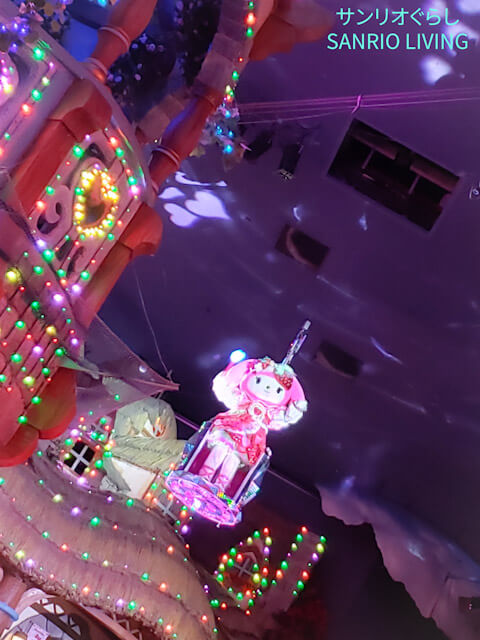 My Melody was down! My melody was pretty on this day! "Ichigo🍓Ichie" takes less time, but it is packed with the cuteness of My Melody. The show can be enjoyed many times. My daughter was also excited!
I think it might be a good idea to sit near My Melody so that you can see her off.
My Melody Garden
Finally, we went to My Melody Garden. I am looking forward to seeing the cherry blossoms regardless of the season. My melody shop has also been renovated, it's all pink. My daughter said, "Take a picture!" and took pictures at various places.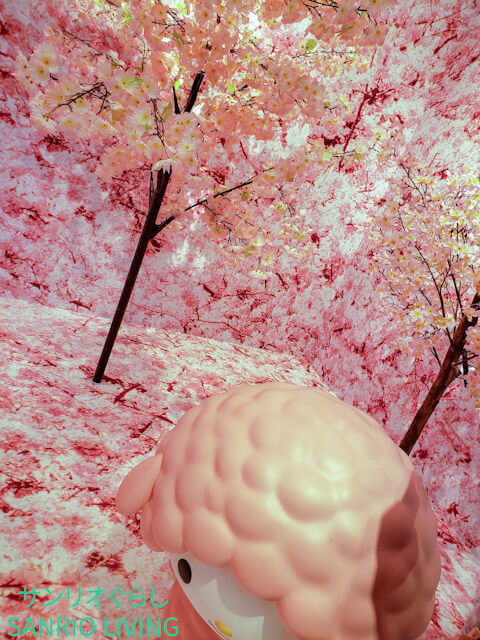 There was also a Piano-chan Risu-kun. There were many people and I couldn't see it slowly, but it's a nice place to take photos. Don't forget to prepare your camera because there are several places where you would like to take a photo, such as a spot with a sofa and a stuffed My Melody and a spot with a My Melody cake.
It was just a bit narrow. If there are few people, I could look around slowly, so I would like to go to another opportunity.
Secret Greeting -Milk-
When I was about to go home, a public greeting for My Melody was being held. But the greeting was a long line, so I abandoned it. My melody set off for a juice break when we were preparing to return home. My melody that makes a high touch with my daughter along the way! My mother, my daughter, and I were captivated by My Melody.
My melody came back from the break as we approached the exit gate. Milk-kun marching behind her! Attendant said, "Milk-kun's greeting will begin, so please join us if you like." We lined up immediately. I'm so excited! On that day, my daughter came to Puroland with a stuffed Milk-kun, so it was nice timing.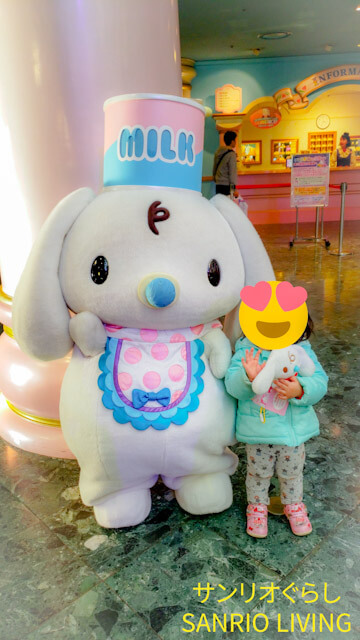 The closeness between the babies was very cute. Thank you for Milk-kun!
Puroland made us wonderful memories to the end.
Conclusion
Because it was after My Melody birthday, Puroland was relatively uncrowded. The less crowded the better, the easier it was to move with children. This time, I am very happy to be able to participate in Secret Greeting three times. It was quite difficult to meet secret greetings in many cases, but knowing where you could meet will greatly increase your chances of meeting. In the future, I would like to make a day for greetings.